All the year along, cultural events and moments do not miss here. Places for concerts et shows offer programs of quality, eclectics programs and the most of them are known a few weeks before the end end of French summer holidays.
Auch cultural season
From October to May, at Dôme de Gascogne, in Auch Italian theatre, under tente or in neighbors villages, varied shows are played : theatre, contemporary or Classic music, dance, circus arts, shows for children ; all audiences are touched !
Its the Organization CIRC (which gives also the name of their offices place, in the colored houses of a rehabilitated former military barracks) which programs in town hall's shoes.
There, for lunch all midday during the week, and for diner the evenings whenever there's a show, you can eat at La Cant'auch. They serve a cuisine made with fresh produces, in accordance with seasons and short food circuits.
The CRI'ART
The really house of Amplified Music ! At CRI'ART very often on Friday and sometimes on Saturday, we enjoy Pop – Rock- Soul – Rap – Blues – Reggae concerts all along the year ! Sometimes, you can also see exhibition in this shared place.
Ciné 32
The place awarded a Prize for architecture in 2013, and a famous French newspaper (Le Monde) is agree to say that's in the top 5 of most beautifuls european cinemas !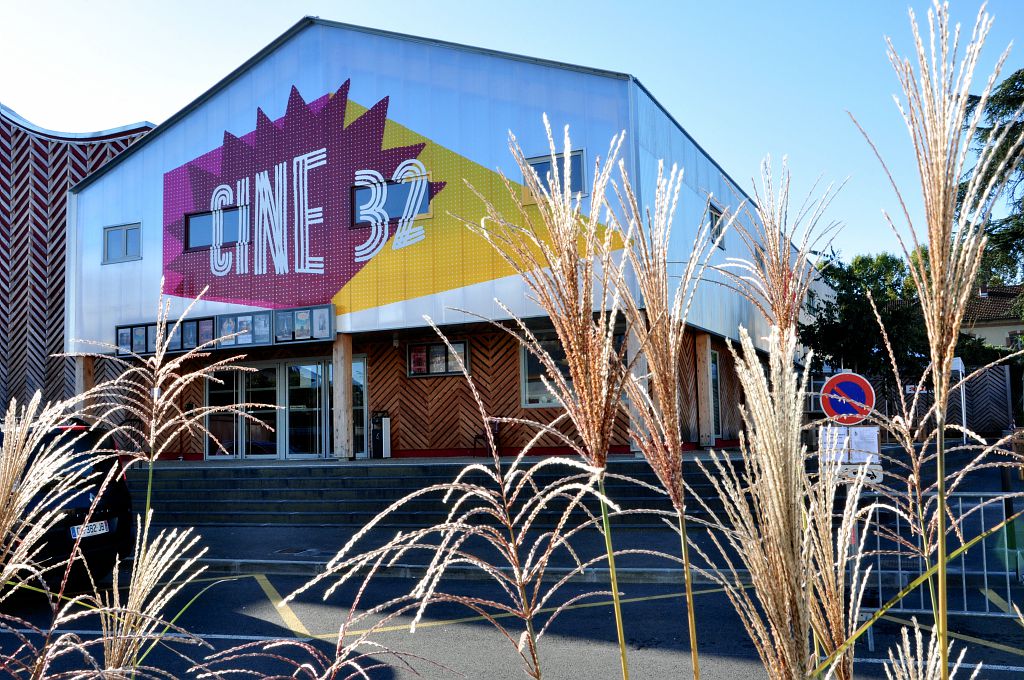 First of all, Auch cinema, Ciné 32, is a safer and meeting place for citizens with its bistro where you can also eat, and with its special theme meetings :
cine-meeting,
cine-concert,
ciné-opera,
ciné-retro,
delighted screens for youngests.
Big events
Other festivals
Festival Pirouette Circaouette
What a funny name ? It's the children and the families' festival, or the festival for those who wants to keep child…
During 20 days baroud Easter holidays, at CIRC there are many shows especially for children, entertainments and even for babies (at least 6 months old) : circus, dance, puppets, theatre, innovative kids of arts… Feelings and poetry in the air !
The FCMA, festival of short-film
Created in 2011 by , sixth-form students, nowadays this festival receive more than 1000 short-films since 2016 and take up Ciné 32 ! The organizers feel like meeting to share unique moments around their passion. far from bling-bling, the team work hard to offer event of quality, a combine event mixing cinema, meetings and music. With its original program, FCMA is a showcase of the future creation.
Le Pays d'art et d'histoire
Beacause live heritage, the Pays d'art et d'histoire du Grand Auch (it's a french label to define an area very rich in light of its heritage), with its team of professional guides, offer guided tour all the year along. Programs are varied and they can adapt to the audience !
They also propose making manual activities to the children after they visited a site. And then, during summer you can come to their shows.
Les Soirs d'été
On Tuesday evenings, in July and August, the Pays d'art et d'histoire invite you to enjoy shows in a big and famous site, or sometime in places less known…
Other places for regulars concerts
In Jégun, The Petite Pierre also program events in the villages around, all along the year.
From May to September, MEMENTO, the art contemporary centre of Gers, open its door all the summer along. Some evnenings there's a concert or another king of cultural moments, as meeting with an artist who create for this exhibition… What a special atmosphere in this former carmel !
Bars, pubs, cafés can also offer concerts : for exemple at l'Irish Rock Café in the really historic centre of Auch, or at Bistrot Le Salon below in Auch town centre.
You'll also like